Dakotah Wirehaired Pointing Griffons

South Dakota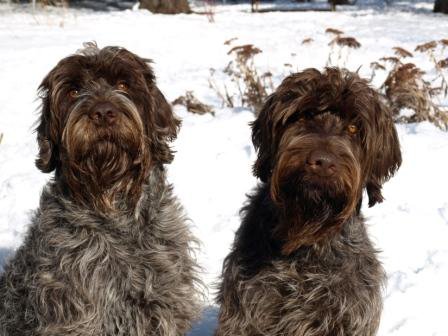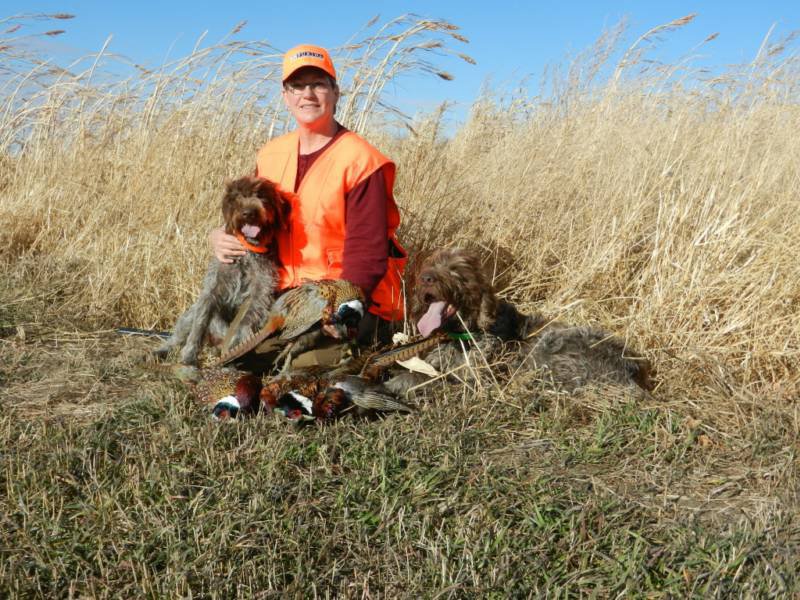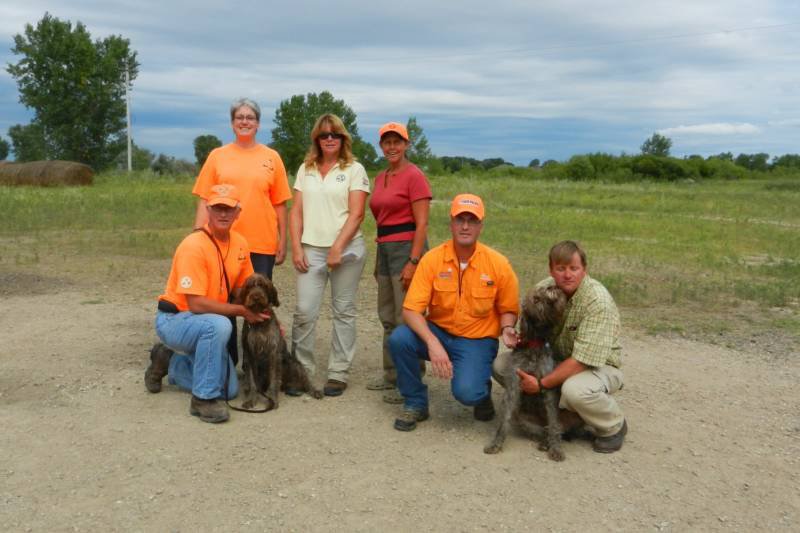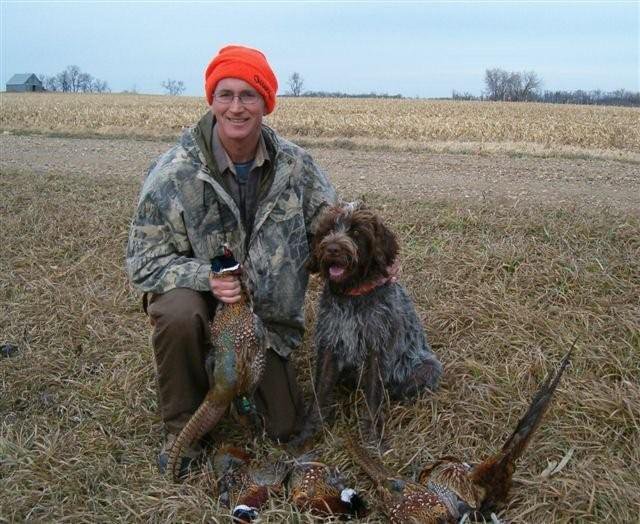 Hunting Dog Breeds Raised: Wirehaired Pointing Griffon
We have been showing, training, and hunting with dogs for longer than we like to admit! Over the years we have been privileged to have English Springer Spaniels, Brittanys, a Lab, a Golden Retriever, and a couple Pembroke Welsh Corgis. We discovered Griffs when we went searching for a versatile dog for hunting, showing, and obedience, and found the perfect breed for us. We believe that a dog must be correctly structured in order to hold up to a long day in the field, thus the purpose for showing our dogs. On the flip side, we believe that a sporting dog should also demonstrate the ability to do what it was bred to do: hunt.

Our male Griff, CH Fireside's Unfazed CDX RE MH CGC, NAVHDA NA PIII, NAVHDA UT PI, is a great all-round dog. As you can see by his titles, Fazer is accomplished in the field, the show ring, and in obedience. He is a great hunting dog for our wild South Dakota pheasants! Fazer earned a NAVHDA UT PI and a Master Hunter title in 2012, and was the 2008 #6 All Breed and #9 Breed Griff show dog with only 5 weeks of showing. He was awarded the 2007 AWPGA Versatile Griffon Award and the 2008 AWPGA Open Obedience Dog of the Year award. He received the AWPGA's "Versatile Griffon Excellent" award for his accomplishments through 2010. Fazer was inducted into the AWPGA's Field Dog Hall of Fame in 2013.

CH Harmony's DFH Cassie CD RA JH NAVHDA NA PI is the mother of 2 litters. We were thrilled when judge Patricia Trotter gave Cassie an Award of Merit at the 2009 AWPGA National Specialty. She was awarded 20009 Versatile Griffon Award and the 2009 Novice Obedience Dog of the Year. Like Fazer, Cassie excelled in the field, the show ring, and in obedience. She produced puppies that have her hunting drive and excellent conformation.
Our girl CH Whiskeytown Ace's Curtain Call CD RN JH NA (we call her Bravo), earned her AKC championship by the age of 16 months, has a Junior Hunter title, and was awarded a NAVHDA NA PII, score 107. She completed her Companion Dog obedience and Novice rally titles in June 2013. In 2014 she received the AWPGA's Versatile Griffon award. Bravo is a sweet-tempered girl who loves to hunt and retrieve. She does a great job visiting residents at a local nursing home. We look forward to having a lot of fun hunting with her and training her for advanced hunt tests.
Classifieds

for Dakotah Wirehaired Pointing Griffons
Testimonials

for Dakotah Wirehaired Pointing Griffons
Stan Miller | Oct 20, 2015
10/20/15. Bought Dakotah Serenade (Sara) from Rick and Kay Farris in 2011 at age 9 months, a started dog. She is now Dakotah Serenade NAI JH CGC RN NA NAJ. Very smart dog. I am a hunter. We take wild doves, grouse, chukar, turkey, pheasants, ducks and a couple geese. She tracks and retrieves cripples, points pheasants, tracks and flushes or points turkeys and grouse and retrieves doves. In 2013 we took over 100 birds (30 doves). I have had her track coyotes. She doesn't chase the bears we see, and I broke her of chasing deer and elk pretty easily using s shock collar a few times. She gets along well with horses and other dogs and cats. She is very people friendly. She is easily trained, calm in the house and knows the difference between hiking and hunting and relaxing at home; loves them all. When I need another hunting dog, I will call these people first. If they don't have one, they will set me up. A couple more things, if you want a WPG they need exercise to be happy and healthy and well adjusted, just like us. They also need their people and like to be around them. This is not a kennel dog or hunting only breed of dog. Oh, while not a protection dog by any means, my wife said once she was approached while walking her, by someone she was worried about. Sara sensed it and was fearsome. No problem.
Contact

Dakotah Wirehaired Pointing Griffons



Sioux Falls

,

SD

57106


United States

Email

Dakotah Wirehaired Pointing Griffons