Tattnall Kennels

Georgia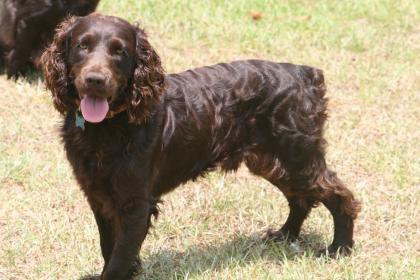 Hunting Dog Breeds Raised: Boykin Spaniel, English Cocker Spaniel
Our pups make great companions/family dogs as well as retrievers, Our goal is to breed outstanding hunters with household personality, excellent pedigree and hunting background, home raised with lots of attention, These little dogs are super hunters and family pets.
Classifieds

for Tattnall Kennels
Testimonials

for Tattnall Kennels
Allan Shepley | Mar 7, 2015
I picked up my pup Sadie from Keith a couple of years ago. Great experience start to finish. It was a long wait as the pups were not born yet, but Keith kept me in the loop and updated. We brought Sadie home as soon as possible and the following Monday went straight to the Vet who went over her from top to bottom. He commented she was an excellent example of what a Boykin should be. He was very impressed. She has been an awesome addition to the family. I have owned a lot of dogs in my life mostly labs as I am an avid hunter. This is our first Boykin as were motivated to try a smaller dog as we keep our dogs inside. Sadie has always exceeded my expectations, I trained her just as I did my labs and was amazed at the power and strength these little dogs have. She is so smart it really is mind blowing. She has memorized everything I do and walks ahead of me as I prepare to go work. She is a real pal and wants to go everywhere I go. She is great with the grandkids and our cat. She has just the right amount of attitude to be a good watch dog. She knows our property boundaries and will let you know when there is an invader be it a squirrel, or neighbor. As you can tell I am very happy with Tattnall Kennels, Keith, and their dogs highly recommend.
Contact

Tattnall Kennels
Keith Pirkle



Glennville

,

GA

30427


United States


912-237-3770