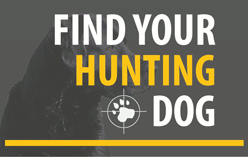 Filter By Breed

Type: Puppies For Sale
Mineral Point, WI | 2 days
AKC Beagle Puppies, 8 wks old, male Lemon and white and two tri-color pups remaining. Dew Claws removed, dewormed, vaccinated, kid socialized, hunting 13" Beagle parents on site. Mineral Point, WI 608-341-9520
$450

Type: Puppies For Sale
Germantown, WI | 3 days
My T Little Lady "Lady" was bred with Vezeto's Freedom Road "Fredo". This is a repeat breeding. These puppies are the quintessential Versatile Vizsla, sound hunters in the field and the family companion in the home. These puppies will come more...
Contact for Pricing

Type: Puppies For Sale
oconto, WI | 11 days
Currently available for their new homes are 3 handsome males and 4 beautiful females. They have had their first shots and tails and dew claws are done. Please call/text 920-672-8941 if you are interested in purchasing one of these pups.
$1,000

Type: Puppies For Sale
Saxon, WI | 29 days
Litter born May 19, 2022. Puppies are available NOW! We are an AKC Breeder of Merit. We have 3 boys and 2 girls available.
$1,299

Type: Puppies For Sale
Shawano , WI | 57 days
He was born on Mothers Day! He comes from an outstanding pedigree on both sides. Lots of field trial titles and championships. This is the first litter weve had in 6 years were very excited about it. I can send additional pics of titles and pedigrees if more...
Contact for Pricing
Page: 1